20 years - Kline House Anniversary 2002-2022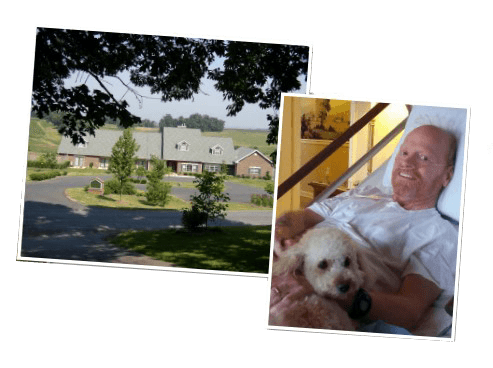 In 2000, Carl and Norma Miller donated 15 acres of rolling farmland in Mount Airy that would serve as the site of a new hospice house for residents of Frederick County. In addition to donating the land for the new facility, the Millers were actively involved in additional fundraising efforts to support its construction and maintenance. Just two years after their generous donation, the Millers were on hand for the grand opening of the Kline Hospice House (named after Carl's mother) in June 2002.
"I like to see that it's on my farm, but the community built this, not me. Now we all have to invest in it and keep supporting it." -Carl Miller
The Vision
Carl Miller's mother had lived her last days in a hospice house in Harrisburg, Pa. Carl and his wife, Norma, wanted to bring a similar facility to their own community. Construction on the six-bedroom home began in July 2001. Complete with a large living room with a soaring fireplace, a roomy eat-in kitchen, formal dining room and lower-level family room with a TV and games, the Kline House is meant to be a home-away-from-home for patients and their families.
The Early Days
After the Millers generously donated land to serve as the site of the new Hospice House, word quickly spread among Frederick County's construction companies, subcontractors and suppliers who stepped in to help make the actual house a reality. Nearly all of the labor and materials were donated. Morgan Keller Construction led the construction efforts, serving as the general contractor. Gladhill Furniture stepped up to provide furnishings for the house, while scores of other subcontractors and volunteers contributed their time and talents to handle everything from electrical, plumbing and HVAC services as well as decorating and landscaping.
Hospice staff supported enthusiastic fundraising by Debbie Williams and the Patty Pollatos Fund, as well as by the Millers, local churches and other community groups, which helped cover the nearly $130,000 required to cover out-of-pockets costs. When the Kline House offically opened after 14 months of construction, it was valued at $2.2 million.
Two decades later, many of the original donors continue to support Hospice, fulfilling Carl Miller's wish that the hospice house belong to— and be supported by—the entire community.
"At the beginning, we hoped Kline House would meet the needs of our community and that the community would embrace it. We have more than met those goals—and then some. If we have a need, it is met. Everyone continues to be there for Hospice." -Laurel Cucchi, Past Executive Director
A Special Place for Families
Over the course of its 20 years of service to the Frederick County community, Kline Hospice House has served 2,405 patients. For those patients—and their families—the Kline House was a place of comfort and care that allowed them to spend end-of-life moments together.
"The three weeks at the Kline House were the most memorable and impactful of my life. My husband was happy, well loved and well cared for, and so was I. I will continue to give to Hospice of Frederick County to ensure that a place as special as Kline House will always be available for other families." -Linda Rubenstein