We Honor Veterans Program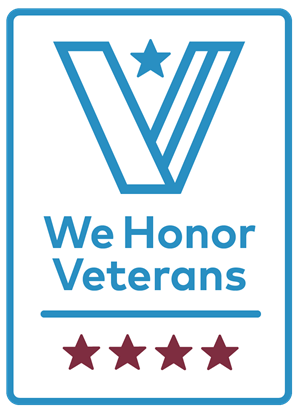 Frederick Health Hospice is grateful to our United States veterans and their service to our country. Through the We Honor Veterans program, which is a collaboration between the National Hospice and Palliative Care Organization and the Department of Veterans Affairs, we have trained our staff to be highly sensitive to the unique needs of our nation's veterans.
How We Honor Veterans
We provide compassionate and respectful support to veterans and their families. Each veteran who receives hospice care benefits from:
Bereavement counselors to help with grief
Social workers to bring psychosocial support
Chaplains for religious and spiritual support
Veteran Liaison
As a result of a generous grant from the Kalhert Foundation, https://www.thekahlertfoundation.org/, Frederick Health Hospice now has Veteran Liaison staff members to offer comradeship, support and assistance to the veteran and their family. This can include:
Providing information about state and VA benefits such as Aid and Attendance, pensions, cemeteries, monuments and military honors
Assistance in obtaining discharge documents, records, medals and awards
Recognition ceremony that includes presentation of a certificate of appreciation and veteran pin
Visits from veteran volunteers
Become a Veteran-to-Veteran Volunteer
If you are a veteran and would like to learn more about how to honor and support veteran patients and their families, please contact our Veteran Liaison at 240-566-3030.
Veteran Resource Links