Paving the Way to Give a Patient What He Wanted Most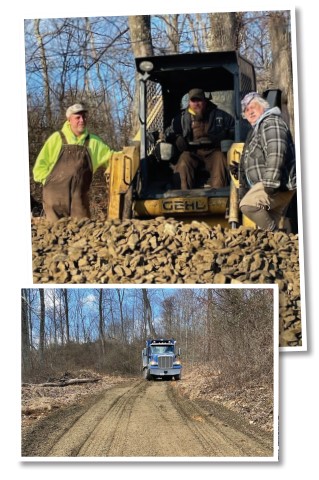 Larry Stambaugh made it clear to his family and friends that he wanted to spend his last days in the home he built with his own hands on a mountaintop in Emmitsburg 40 years ago.
When Frederick Health Hospice began serving Larry, wintery conditions made it nearly impossible for caregivers to reach him due to his nearly 1,000-foot, winding and dirt-covered driveway. At times, it was necessary for the local ambulance company and a caring neighbor, John Eiker, to get Hospice caregivers to and from the house.
Thanks to a generous donation of driveway materials from Laurel Hill Quarry, in-kind services by longtime Frederick Health Hospice supporter Remsburg Paving, and additional support from local businessman Jim Gloyd and Hospice's Sunshine Fund, the Stambaughs had a new paved driveway within five days—something they could not have otherwise afforded.
"How can we even explain how much this means to have all these people make it possible to be able to keep Larry at home?" said his wife, Ruth. "We have helped the homeless community for years, but I never, ever had any idea how good it would feel to be on the receiving end of such help."